HELIO Gas Detectors currently monitor a wide array of gas hazards in Pharma, Bio-Pharma and College laboratories. Our Standalone gas detector and 3 Channel Gas Detector can easily be configured to control extract fans, slam shut valves on gas supply lines and local alarms. Sensors can be remotely mounted closest to the point where the gas hazard will most likely occur. This capability allows personnel to view the gas level from a safe distance either at the gas detector display or via the HELIO Control panel.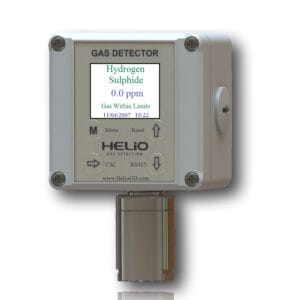 Gas hazards include Natural gas, Hydrogen, Propane, Oxygen, Carbon Dioxide (CO2), Nitric Oxide (NO), Acetone etc.
Your Laboratory Safety is our Priority
Helio gas detectors offer protection from a wide array of toxic and combustible gases in a laboratory and clean room settings. A variety of hazards such as toxic and flammable gases are commonly present in laboratories and clean rooms. I.E. refrigerate gases in chillers and coolers. These hazards pose a serious toxic risk to your health should they leak and for this reason, both short-term exposure and long-term exposure should be measured.
Helio is the leading provider of portable gas detectors, fixed gas detectors, and gas safety equipment in Ireland to suit both laboratories and cleanrooms.
It is highly recommended that there are gas monitors installed in laboratories for the detection of gas leaks and oxygen depletion. They are also important to ensure the safety of workers and the compliance with exposure levels. It is important that all installations of gas detectors and equipment are carried out by experienced and trained personnel, as detector placement is crucial to the accuracy of the measurement.
Some of the common laboratory gases we detect include:
Ozone, Oxygen, Carbon Monoxide, Carbon Dioxide, Amonia, Sulphur Dioxide, Hydrogen, Chlorine, Ethylene, Ethylene Oxide, Helium, Propane, Isobutane, R-134a, Formaldehyde, however, if you have a gas outside of this scope, please get in touch with us.
Contact Us
Want to learn more about which product or monitoring system is right for your business ?