The user friendly HELIO Standalone Gas Detector and HELIO 3 channel Gas Detector are easily installed to monitor gas hazards associated with boilers. Install as standalone boiler room gas detection systems or connect to the HELIO Control Panel, remotely mounted gas sensors enable the operator to view displayed gas levels from a safe distance. Control slam shut valves , extract fans and local alarms via alarm relays, 4-20mA output and modbus which are supplied as standard with all HELIO Gas Detectors.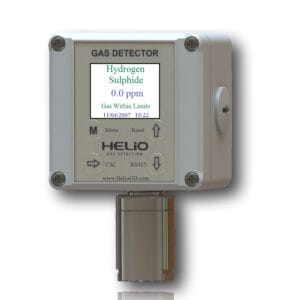 Gas Hazards typically include Hydrogen Sulphide (H2S), Carbon Dioxide (CO2) Methane (CH4) and Ethylene(C2H4).
Helio systems Monitor Gas Hazards in Commercial Boiler Rooms
The most common type of heating system used in commercial facilities and large industrial buildings is natural gas. If your facility has incomplete combustion or a gas leak these can present potential significant risks and severe consequences for your workers. A combustible gas leak could present a potential explosion and in addition, a risk of carbon monoxide leaking. These potential risks could result in a wastage of fuel which can be expensive, cause death, and structural damage.
Helio Gas Detection provides full solutions for gas detection in boiler rooms. Our experts offer a complete service and cost-effective solutions that are tailored to your business needs.
Combustible Gas Build-up
Combustible gas such as methane has a rapid expansion rate. Natural gas weighs lighter than air so it will rise easily to the boiler room roof. You must be aware of the potential hazards such as LFL or LEL. LFL stands for Lower Flammable Limit and LEL stands for Lower Explosion Level. There is a major difference between explosive limits and flammability limits. In relation to the explosive mixture, the fuel oxidizer mix is close to stoichiometric proportion.
Gas Buildup of Carbon Monoxide
A Carbon Monoxide leak is a poisonous toxic gas that can spread rapidly throughout a boiler room creating a hazard for any worker. Every year 15,000 people visit ER and 500 deaths occur due to carbon monoxide poisoning. It is produced by a partial ignition of hydro-carbon fuels which include coal, wood products, oil, and natural gas. Safety measures must be taken to prevent this. A heating appliance in a large building structure are generally a packaged boiler which distributes heat by hot water or steam. There is still a chance of a leak producing carbon monoxide into the room even if there is ventilation. Carbon Monoxide density is the as air and can easily spread throughout other areas in a building through ducts, vents, and other open areas of a building.
Boiler Room Gas Detection Sensors
A gas detection system in a boiler room typically consists of secure sensors that are wired in place to the gas detector controller. If gas is present in a room, then a visual alarm will be raised. If it reaches a high level, then the power will cut via the extra relays to the electric operated solenoid valves which are connected to the gas supply.
Sensor placements:
Gas meter
Pressure booster
Shutoff valve for gas
Gas train assembly
Gas burner assembly
The lower explosion level for Carbon Monoxide is 12.5 – 75% The Methane lower explosion level by volume is 4.4 – 5%
50 PPM OSHA Permissible Exposure Level 8 Hours
A potential ignition source can include anything from panel control switches to lights from uncertified electrical equipment which are present in a boiler room.
Contact Us
Want to learn more about which product or monitoring system is right for your business ?