Product Range
Remotely mount up to 3 gas sensors, Our intelligent gas detectors operate independently or interface directly with a HELIO Graphics Panel to monitor a wide array of gas hazards using electrochemical, catalytic, infra-red and PID sensor technologies.
For hazardous environments choose our loop powered gas detectors or the HELIO DTEX and DTEX 3 standalone gas detectors which are housed in Exd rated enclosures. The DTEX range are supplied with a 2.5" OLED display, 6 volt free alarm relays, 3 x 4-20mA outputs and RS485 modbus as standard.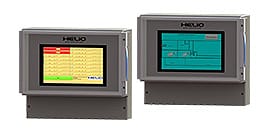 Connect up to 64 gas detectors, the HELIO Graphics panel has been designed to convey accurate information directly to the personnel the system is protecting. The 10.1" display with touch screen interface allows the user to pin point the exact location of a gas alarm, displayed gas levels, alarm status and historical trend data.